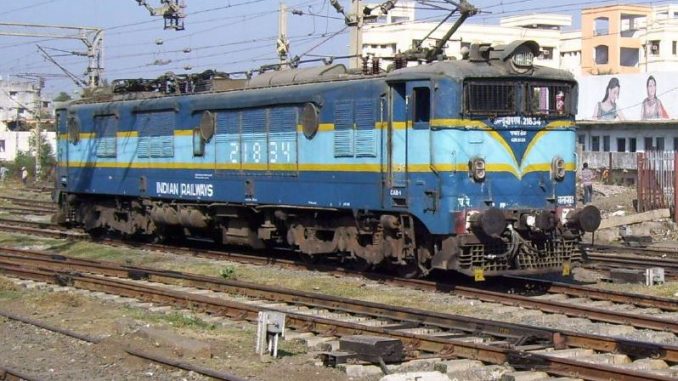 Introduced in 1975. This class of loco was generally found only in the Bombay Central – Ahmedabad section. An occasional loco has also appeared on the Bombay V.T. – Igatpuri route.
One of the single pantographs on the WCAM-1 is used in dc traction; the other one carries ac current. The two pantographs are not identical, though similar in design. Bogie design as for WDM-2, WCG-2, and WAM-4 (Alco asymmetric trimount (Co-Co) bogie with cast frames). These locos perform poorly in DC mode compared to AC mode. Originally built with vacuum brakes only, although a few (Nos. 21805, 21807, 21812, 21828, 21838, 21844, 21845, and 21850) have both vacuum and air brakes. Update [1/05] The locos are now restricted to hauling vacuum-braked trains. Loco brakes are air brakes. They also lack dynamic brakes.
The WCAM-1 does not use a variable ratio auto-transformer in AC mode like the others; it uses a fixed-ratio transformer and rectifier bank to convert the OHE supply to 1500VDC. The design of the transformers and notches makes this a hard machine to operate, with the fusible links tending to blow often. Of the 28 notches, notches 4, 14, 21, and 28 can be used for continuous operation, although notch 4 was intended for low-speed shunting and is very ineffective. Notches 14, 21, and 28 are the terminal notches of the series, series-parallel, and parallel circuit notch sequences. In DC mode, the WCAM-1 uses resistor banks for speed control.
However they were very robust machines and relatively easy in the handling characteristics. WCAM-1's have three traction modes (series, series-parallel, parallel) in both DC and AC mode, but using the parallel mode in DC was discouraged because of power problems. In practice this was not restrictive since series-parallel notches allowed reaching 75km/h or so. In AC mode, the locos are almost always used with the motors in all-parallel mode. Unlike the WCAM-2 and WCAM-3 locos, no reconfiguration has been carried out to force the use of all-parallel mode with AC. Weak field operation is available. 53 of these locos were produced. They were briefly tried out for freight use by CR, but all finally ended up with WR.
They are used for WR's second-tier trains, the top ones getting the WCAM-2P (see below). [5/02] However, recently CR's Indore-Pune weekly train has been hauled by a WR WCAM-1.
Recently [2004] it's been seen that some (3-4) WCAM-1 locos have been modified to run only in AC mode; in many cases these locos have even had their DC equipment removed. Such modifications occurred after WR's Virar – Vasai freight lines were converted to AC. The modifications were carried out by the Valsad shed. It is not proposed that the locos will be re-classified; one, #21808, simply bears an annotation saying 'Only AC Working'.
Update on status: [1/05] WR has decided to condemn five WCAM-1 locos: 21801, 21802, 21803, 21804, and 21806.
Max. speed : 100km/h, 110km/h after regearing. MU operation not possible. Motor-alternator from Kirloskar (AEI UK motor), Gresham & Craven exhauster, Kirloskar compressor; other auxiliaries from S F India.
Manufacturers : CLW
Traction Motors : Alstom/CLW TAO 659 A1 (575kW, 750V). Axle-hung, nose-suspended.
Wheelsets : Alco asymmetric Co-Co trimount cast bogies.
Transformer : BHEL BOT 34600. 3460kVA.
Rectifiers : Silicon rectifiers, 48 cells (321 UFR200) per bridge, 1000A/1270V.
Gear Ratio : 61:16, 58:21
Pantographs : Faiveley AM-12 (AC) and Faiveley AM-18B (DC)
Length : 20950mm
Total wheelbase : 15698mm
Weight : 113t