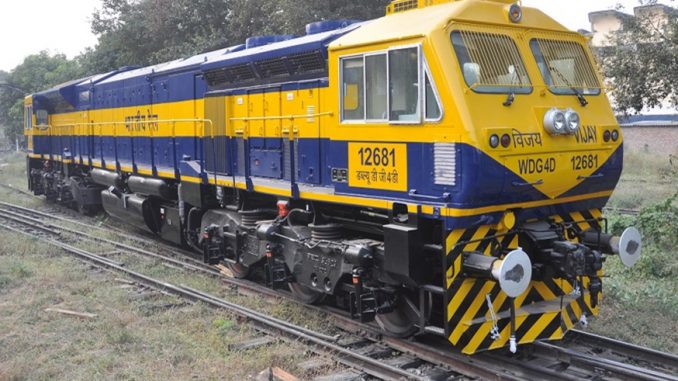 New dedicated goods diesel locos. These are GM's GT46MAC models. First units were imported in 1999 (13 fully built, 8 in kit form). Now [4/02] DLW has begun local production; 3 have been built and a further 25 or so were built in 2002. As of [1/06] 60+ units have been built.
The loco shed at Hubli has been modified to handle these; initially all will be based at Hubli and will be used to haul mineral ore freight from Bellary or Hospet to Vasco da Gama.
The locos are rated at 4000hp and use 3-phase AC traction motors. They can start a load of 58 BOXN wagons on a 1 in 150 grade and have a balancing speed of 85km/h for such a load on level track. Max. speed is 100km/h. They can be MU'd with up to 4 units operating in tandem. Gear ratio 85:16. Axle load 21 tonnes. They have an evaporation-bath-cooled converter system, and the Siemens SIBAS 16 traction control system. The locos also have slip-control mechanisms.
They are expected to have lower maintenance costs, as they need to return to the home shed only once in 90 days instead of every 7-10 days as with the earlier diesels. Fuel costs are also about 20% lower than with the WDM-2. [1/05] Earlier plans to home more of these at Golden Rock seem to have been dropped; instead more are expected to go to the northeast (Siliguri? New Alipurduar?).
The first units from GM were #12001-12013 manufactured between 7/97 and 9/98; followed by a second order (#12014-12021) manufactured around 12/98. The first unit, #12001, has been seen often [1/05] in a green-black livery with no IR markings and instead '9001 / General Motors' painted on it.
Builders : GM, DLW
Engine : GM-EMD 16-710 G3B, 4000hp, with EMD 'G' turbocharger. WW PGR governor. Unit fuel injection, centrifugal pump as with WDP-2, cooling and fan as in WDP-2.
Transmission : Electric with TA-17-CA6A alternator, 900rpm, 2200V AC / 3000V DC, 1600A AC, 2100A DC.
Wheelsets : Co-Co bogies
Starting TE : 55t at 41% adhesion.
Length over buffer beams : 19964mm
Distance between bogies : 13888mm (? or 13666mm?)
Weight : 128t
Fuel tank capacity : 6000 Liter