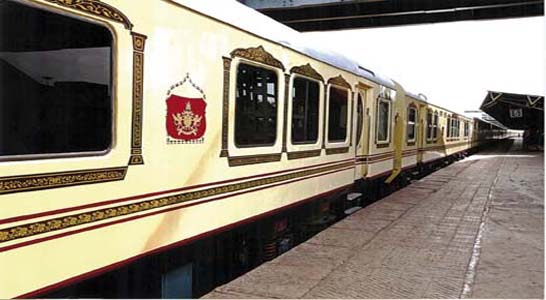 The Palace on Wheels is a luxury tourist train. It was launched by the Indian Railways to promote tourism in Rajasthan, and has been highly popular since its launch. The train service was refurbished and relaunched in August 2009 with a new decor, itinerary and cuisine. The concept of the Palace on Wheels was derived from the royal background of the coaches, which were originally meant to be the personal railway coaches of the erstwhile rulers of the princely states of Rajputana, Gujarat, the Nizam of Hyderabad and the Viceroy of British India. Each coach has four cabins (named chambers or saloons by the company) with twin beds, wall-to-wall carpeting, air-conditioning, DTH satellite television, channel music, intercom, attached toilets, running hot and cold water, with personal attendants.
There is the comfortable bar cum lounge where you can relax over your favourite drink, burrow in a book or converse with fellow passengers. Attached to it are two restaurant cars, Maharaja and Maharani respectively, with opulently draped curtains, exquisitely crafted lights and table settings . Here accompanying chefs serve up a delicious choice of Indian, including Rajasthani, Continental and even Chinese cuisine that are a feast for the palate.
The train chugs out of Safdarjung Railway Station New Delhi cantonment on a week-long run through Rajasthan every Wednesday night, with a trip also inbuilt to Agra and the Taj Mahal. Turban-wearing attendants take over from the moment you arrive at the platform, assigning you your coupes and detailing all the facilities that are on board. The train moves by night and arrives each morning at a new destination where new experiences await you.